Bowmanville Dental 5 Year Anniversary Party- Thank You!
On July 29, 2012, we at Bowmanville Dental celebrated our five year anniversary.  Over 300 of our wonderful patients joined us for the celebrations at our BBQ and Family Day at the Bowmanville Zoo.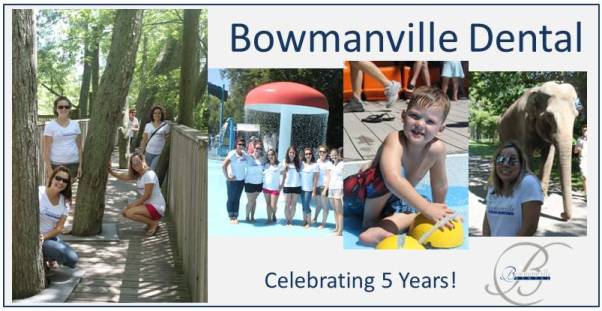 Over 50 of our guests walked away with prizes, including restaurant gift cards, massage and manicure gift cards, movie passes and more, all from our local restaurant and store owners.
Thank you to our wonderful local sponsors for their generous prize donations.   
Mucho Burrito, Boston Pizza & Kelsey's
Jess Nails, Salon Amana & Hair Fitness
East Side Mario's, Captain Georges & Wild Wing
TSC, The Country Store, Square Boys & Cineplex Odeon
We thank all the staff at the Bowmanville Zoo who went the extra mile to make sure our guests were well fed, well taken care of, and enjoying their day!
We would also like to thank our wonderful patients, for joining us for our special day, and for supporting us over the last five years that we have been in business.  At Bowmanville Dental, we focus on providing our patients with outstanding, personalized, comfortable dental care, and creating positive dental experiences.  Your continued support tells us that we're on the right path.  Your repeated referrals of friends and family and your return visits speak volumes about your trust in us.  We cherish that trust, and we look forward to serving you for many years to come.  Thank you to each and every one of you.   We appreciate you all so much.