Bowmanville Dental Voted #1 Dental Office By YOU!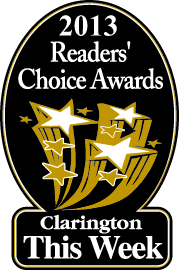 We Are The 2013 Reader's Choice Award Winners, Thanks To You!
We recently learned that we have been voted the best dental office in Clarington by the Clarington Reader's Choice Awards for 2013!
We're excited. We're grateful. We're honoured.
We wish to take a moment to thank every one of our patients who comes in to see us here at Bowmanville Dental, whether you had the opportunity to vote or not. We know you have many options for dental care in town, and we appreciate that you continue to put your trust in us. We love seeing you and your family regularly, hearing about your lives, and being a part of your overall health care team.
Thank you for voting for us.   Thank you for all your thoughtful referrals.   Thank you for being our patient.
Sincerely,
The entire Bowmanville Dental team!
P.S. If you want a list of all the winners, you can download it as a PDF right here: 2013 Clarington Readers Choice Awards Winners List