Bowmanville Dental's Big Bike Ride for Heart & Stroke!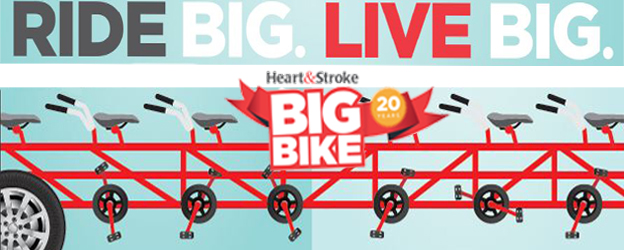 At Bowmanville Dental we are always looking for ways to give back to the community and participate in local Bowmanville events! This year (and hopefully every year going forward!) we are taking part in the Heart & Stroke's Bike Bike Ride! This event is taking place at our local Bowmanville Kelsey's on June the 6th!
What is "Big Bike"?
Us a Bowmanville Dental are going to squeeze onto a bike which has 30 seats and try to be co-ordinated enough to go 2 kilometers in 20 minutes! Thank goodness we are going to have a "Tour Guide" helping to lead us through this event but the other 29 seats on the big are made up of our team/friends/family with one goal in mind – Raise money to help support the Heart & Stroke foundation.
Where does the money you donate go?
Supporting Bowmanville Dental in our Big Event by way of donations ensure that there is more money go to the Heart and Stroke Foundation, where they'll use it to develop life-saving treatments that bring hope to heart disease and stroke patients. We want to see more survivors from one of the leading causes of death in Canadian men and woman.
We love the idea of this event because not only are we raising money for a very worthy cause, but it will build team work within our Dental Office! Also, it's going to be pretty funny!
Please follow the link below to help support our team! Our team name is Bowmanville Dental and our goal is $5,000! Anything you can give will help!