National Dentists Day – Ideas For Celebrating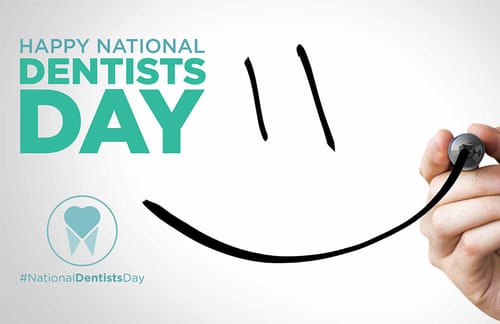 National Dentist's Day falls on March 6th every year. It was established as a way to show appreciation for dentists and all they do to keep us healthy.  It's a great time to introduce the concept of dentists to small children. It's also a good time to remind teenagers on the importance of caring for their teeth.  Dentists day in the media may help encourage people who may have avoided going to the dentist to go in for a checkup.  Before we share some fun ways to celebrate Dentist's Day, let's take a look at what it takes to become a dentist.
Becoming A Dentist
Your dentist underwent rigours schooling and training to manage your oral health needs. Most dental students begin with certain basic pre-dental education courses (maths and sciences) that must be completed before enrolment in dental school. Some complete a Bachelor of Science degree.
All students must study to take the Dental Aptitude Test (DAT) before applying to dental school. The DAT is administered by the Canadian Dental Association (CDA). It evaluates academic ability, two- and three-dimensional visual perception and manual dexterity.
Once the DAT is passed, students call apply to dental school. Similar to medical school, dental students complete courses in anatomy, biochemistry, physiology, microbiology, immunology and pathology. Students begin clinical practice in years 3 and 4 of dental school.
Once graduated, students often associate for a few years under another dentist. Some may eventually open their own practices and take on the enormous responsibility of practice ownership in addition to keeping up with mandatory Continuing Education for all dentists.
Your dentist is an important part of your overall health team, so if you haven't been to visit them in awhile, now is a great time to book an appointment.
Celebrating National Dentist's Day
It's definitely an odd holiday but every holiday is a cause for celebration, and life is always better with a little joy and fun. Here are some ways you can celebrate Dentist's Day.
With Your Kids
Introduce toddlers to the idea of dentists. Bring them in for a fun tour of the dental office with an older sibling and let them explore and meet the dentist. This helps reduce anxiety for their own future dental visit.
Spend time doing fun tooth health crafts like cutting out tooth shapes and gluing "bugs" to them to teach kids about sugar, bacteria and healthy snacks. Colour tooth related pages. Learn tooth brushing songs.
Visit the grocery store and read labels. Choose low sugar snacks. Make tooth healthy snacks. Enjoy them!
Teach your children about the importance of protecting their teeth and of visiting the dentist. Shop for a small gift for the dentist (like you might for a teacher gift), and take the kids in to deliver the gift. This strengthens their relationship with their oral health provider.
---
With Your Teenagers
Make a tooth friendly meal together and enjoy it.
Take some fun selfies and post your smiles with the #NationalDentistsDay hashtag.
Google weird, fun or gross tooth facts and spend some time together laughing and learning.
---
With Your Family Members
Schedule an annual family photo day to show off your pearly whites.
Select and donate tooth healthy snacks to a local food bank.
Encourage anxious family members who have been avoiding the dentist to go in for a visit. Go with them to help reduce their anxiety.
---
Visit Our Bowmanville Dentists
Our team of dentists in Bowmanville are here to help you have fun while keeping your teeth and gums healthy for life.  We welcome you to call us today and schedule your appointment – new patients are always welcome! Call (905) 697-9799 to book your appointment.  A few of the things we can help you with include:
Dental checkups and cleaning appointments to keep tooth problem at bay.
Including fillings for cavities, root canals, dental crowns, bridges, dentures and more.
We treat dental emergencies. No referral is necessary. Call us today. (905) 697-9799.
Dental implants are the gold standard for tooth replacement. Learn how implants can help preserve jaw bone and replace missing teeth.
We offer traditional dental braces for children and teenagers and Invisalign for teenagers and adults.
Contact us today to learn more or request your appointment online.