Fun Tooth Fairy Ideas From Bowmanville Dental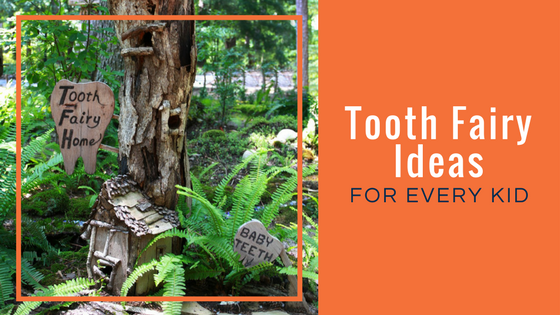 Tooth Fairy Ideas For All Parents – From Your Favourite Bowmanville Dentists!
Some parents start planning for the tooth fairy with the first dental visit, or earlier, and some wait until the first tooth is waiting under a pillow. Whatever your style, there are tons of wonderful and easy ideas available to make your child's tooth fairy experiences absolutely magical.
Whether your child is ready for a first dental visit or starting to lose baby teeth, our friendly dentists at Bowmanville Dental are ready to help your child's teeth stay clean and healthy. Contact us today at 905-697-9799 to make an appointment!
[divider]
Fun and Low-Stress Ideas to Make Your Child's Visits from the Tooth Fairy Magical
Magical Money – Did you know that, according to a study conducted by Visa, the tooth fairy gives the average American child about $3.70 for each tooth? Regardless of whether you choose to give a coin, toonie, or five dollar note, there are many ways to make that money very special for your child.
Write a special message from the tooth fairy directly onto the money note, in glittery ink and very small print. Leave a tiny hand print in peel-off glitter glue if you're hesitant to deface money.
A small pouch full of miscellaneous coins makes a very satisfying "clink" that children love. This can be especially fun if your child is learning coin denominations in school at the time of the visit. Help him count out his coins and seem surprised when the total is an even dollar amount.(Bonus points for a drawstring pouch.)
Fold the note into a small envelope, holding a dollar coin or a special message of encouragement.
If you've had success with origami paper folding in the past, try your hand at creating a special shape or animal out of paper money. Tooth fairy origami inspirations can be found here.
[divider]
For a Light Sleeper – If you know there's no way you'll be able to get a hand under your child's pillow without waking him, consider a tooth fairy mailbox or tooth pillow. Any vessel will do, just be sure it stays in a place you can access easily, such as hanging from the doorknob, outside the bedroom door, or even in your mailbox. Just be ready when your child asks you how the tooth fairy will know not to look under the pillow!
[divider]
Enlist the Tooth Fairy to Encourage Good Oral Health – One of the best bits of tooth fairy lore is that she loves getting clean and healthy teeth for her cache. She may even give special bonus gifts for cavity-free teeth! Share this intel with your child when she is starting to become independent in her daily brushing and flossing routines, and reinforce it with notes of encouragement from the fairy herself.
[divider]
Personalized Messages – One of the cleverest tooth fairy traditions is the tiny note. Print off a personalized message in Word ("Thanks for the beautiful tooth, Madison! Keep up the good work!") in a super extra-tiny font size. Cut the paper down to a small size and put it in a tiny envelope if possible. Your child can use a magnifying glass or a pair of reading glasses to enlarge the print and read the special message. A tiny tooth fairy "receipt" is another fabulous idea children will love for its verisimilitude.
[divider]
For the Child Who Asks "Why?" – There is a wealth of tooth fairy mythology being created by clever parents every day. If your child is bound to ask why the tooth fairy collects teeth, here are some of our favourite answers:
to build a tooth castle in the clouds
to give to new babies who need teeth
to plant in the earth so your adult teeth will grow in healthy and straight
to make a piano for the other fairies
to grind them into fairy dust
[divider]
For a Little Scientist – If your child is a show-me type, you might enjoy leaving various forms of material evidence behind after each tooth fairy visit. Draw no attention to the evidence yourself; let your child discover them on her own.
A light dusting of glitter on the windowsill, nightstand, and pillow will give your child a trail to follow.
Create fairy footprints with a doll shoe or doll foot. Got more time? Create a potato stamp in the shape of a tiny foot.
Leave a tiny smooch on your child's face in glittery lip gloss or sparkly lipstick. Create a fairy kiss mark by putting lipstick on two pinched fingertips and gently touching them to your child's forehead.
[divider]
Fun DIY Projects – If you have the time and energy to do something special to anticipate the tooth fairy's arrival with your child, consider installing a fairy door. Google "tooth fairy door" for inspiration, or purchase a kit online. You can also purchase or put together your own tooth fairy pillow kit, which is a lot easier than it sounds.
[divider]
Leave A Light On – Even something as simple as a glow-stick or special lantern left in the windowsill will enhance the mystique for your child. Tell him or her your "fairy beacon" shows the tooth fairy which houses she needs to collect teeth from.
[divider]
A Lesson In Savings – If your goal is to raise a money-smart child who knows the value of saving her gift money, why not buy a special piggy bank for tooth money? You'll find plenty of options online,
[divider]
Make Tooth Fairy Time Reflective – In is book The Guardians of Childhood, author William Joyce posits that the tooth fairy takes children's teeth because teeth hold precious memories from childhood, which need safekeeping. If your child is a fan of this series (or the 20 film adaptation) as her to reflect on what her favourite recent memories will be held in this particular tooth.
[divider]
Make Your Own Magic – Remember, as a mythical being, we may never understand the tooth fairy's motivations and methodologies. If she leaves a coin for one tooth, and a fiver for another, or a tube of strawberry toothpaste—that may be as much a mystery to you as it is to your child!
If your child is on the cusp of losing his or her first teeth, you may want to think of a way to make the tooth fairy tradition something special for your family. In the realm of magic, there's no law saying the tooth fairy has to leave money. Perhaps a special new tub of play-dough would delight your child more than money.
[divider]
Caring Family & Children's Dentistry in Bowmanville
Our caring team of dentists & team are focused on making your dental visits convenient & comfortable. Bowmanville Dental offers free parking in the Bowmanville Mall, extended hours to fit your busy life, a complete range of preventative, general and cosmetic dental care, as well as orthodontics, Invisalign, dental implants and sleep dentistry.  We've been voted the best dental office in Bowmanville a few times now, so come in and have a great visit with us soon. And if your child is anxious about visiting the dentist, we offer many sedation options too.
Call us at 905-697-9799, or send us an email.