Happy Thanskgiving From Bowmanville Dental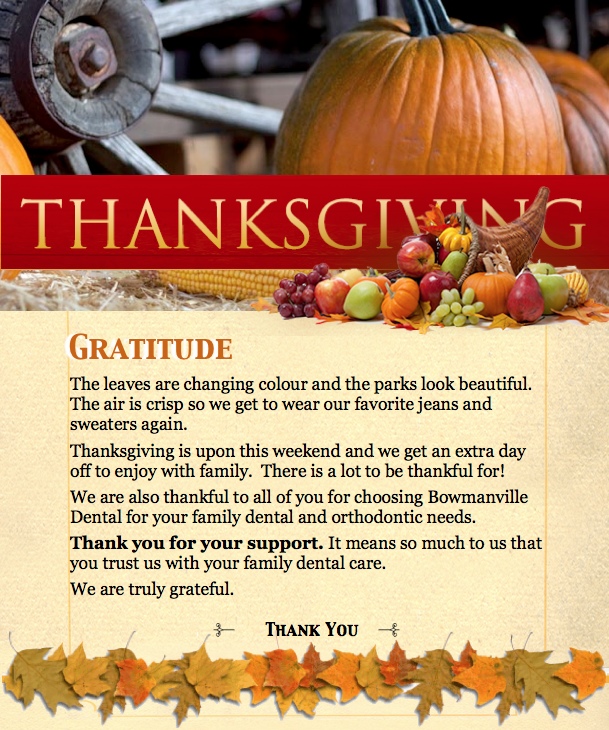 Food Gratitude
Another thing to be grateful for is delicious nutritious food on our tables.  Whatever Thanksgiving feast you are having this holiday weekend, remember good dental health.  Proper nutrition is essential to maintaining good oral health. Often, improving your diet can help prevent tooth decay and gum disease.
Here are some tips for a delicious and nutritious Thanksgiving dinner, including good choices from all food groups.
Milk – Great in mashed potatoes or as a drink with dinner or a light dessert
Meat protein– Turkey or ham
Grains – Whole grain rice or whole grain bread
Vegetables – Yummy yams, squash, carrots, broccoli or garden salad
Fruits – Cranberry sauce, delicious fruit salad dessert or fruit, granola and pudding parfait
Here is a great recipe for acorn squash.  One cup of acorn squash gives you 200%+  of your recommended daily intake of vitamin A, 32% of vitamin C for antioxidant & immune support, 28% of fibre which lowers risk of heart disease and slims your waistline.  Plus it tastes delicious!
Classic Baked Acorn Squash Recipe
Ingredients
1 Acorn squash
1 Tbsp Butter
2 Tbsp Brown Sugar
2 teaspoons Maple Syrup
Dash of Salt
Method
1 Preheat oven to 400°F.
2 Using a strong chef's knife, and perhaps a rubber mallet to help, cut the acorn squash in half, lengthwise, from stem to end. Use a spoon to scoop out the seeds and stringy stuff in the center of each half. Score the insides of each half several times with a sharp knife. Place each half in a baking pan, cut side up. Add about a 1/4 inch of water to the bottom of the baking pan so that the skins don't burn and the squash doesn't get dried out.
3 Coat the inside of each half with 1/2 a Tbsp of butter. Add a dash of salt if you are using unsalted butter. Add a Tbsp of brown sugar to the cavity of each half. Dribble on a teaspoon of maple syrup to each half.
4 Bake in the oven for 1 hour to 1 hour 15 minutes, until the squash is very soft and the tops are browned. Do not under cook. When finished, remove from oven and let cool a little before serving. Spoon any buttery sugar sauce that has not already been absorbed by the squash over the exposed areas.
Yield: Serves 2 to 4, depending on how much squash you like to eat.
Facebook Faves!
Go to our Facebook page and tell us what you are thankful for this Thanksgiving weekend, or post pictures of your favorite Thanksgiving meals.  We love hearing from you!  https://www.facebook.com/BowmanvilleDental
Remember To Book An Appointment Before Your Benefits Expire For 2013
Halloween will be here in a flash.  Just as you're putting away the last of the kids costumes, and finishing off the last mini chocolate bar in the house, it will be time to get cracking on Christmas shopping, preparing for holiday visits, holiday dinners, out of town guests and holiday decorations.  During the busy holiday season, we can forget to take care of ourselves, so be sure to contact us today to schedule a dental cleaning and check up for yourself and your family.  Pre-booking ensures your preferred appointment slot before your 2013 benefits expire.  Susy, our hygiene coordinator, is waiting to hear from you.  Email Susy or call 905.697.9799.
Have a happy Thanksgiving and don't forget to brush and floss!