Causes Of Bad Breath & Cures For Bad Breath
Halitosis is the medical term for bad breath. It is a common condition that affects people everywhere. Bad breath is an embarrassing and unpleasant condition for those of us who have it. Sometimes, we may have bad breath and not realize it, or you may find that despite good oral hygiene habits, you may still be suffering from bad breath. Certainly, good oral hygiene habits help limit some causes of bad breath, however there are many causes.
Causes of bad breath
Certain foods that you eat affect the air you exhale and contribute to bad breath odor
Dry mouth, which occurs when the flow of saliva decreases with age, due to certain medical conditions, or in people who snore or breath through their mouth as opposed to their nose
Tobacco use and smoking
Medical disorder, such as a local infection in the respiratory tract, chronic sinusitis, postnasal drip, diabetes, liver or kidney impairment
Oral hygiene habits: food that is not brushed or flossed away begins to rot and emit bad odours, and also cause bacteria to build up
Treatment for bad breath
Some tips to improve bad breath include:
the use of a tongue scraper to remove white coating from your tongue
the use of an oral hydrating gel such as Biotene to offset dry mouth (xerostoma)
flossing more regularly
visiting the dentist every 3 months (instead of every 6) for professional tooth cleaning, especially if your gums bleed at all when you brush of floss, as this is not normal, and a symptom of infection in the gums that will lead to gingivitis and gum disease
drinking more water
having a medical exam with your physician if you suspect a medical condition as the cause of your bad breath
Contact us with your questions about bad breath, oral health, smile make overs and more! We offer complete family dental & orthodontic treatment in one convenient office.  We are open early mornings, late evenings and weekends to fit your busy life.  We accept payment direct from your insurance company.  Call: 905.847.6677
Bowmanville Dental is offering Zoom Whitening for $349, until December 29, 2012.
Call now: 905.697.9799
You can choose to have a whiter, brighter smile with Zoom laser teeth whitening!  Over four million smiles are whiter, brighter and more confident thanks to Zoom Professional In Office Teeth Whitening System.  Zoom Whitening  is the #1 patient-requested professional teeth whitening brand.  Philips Zoom, NiteWhite and DayWhite deliver the superior, professional results you want for your smile.
Smile Make Overs
We also offer Smile Make Overs.  If you are shy about smiling because you're less than thrilled with your smile, talk to us today.  Straightening crooked teeth, replacing dark coloured fillings, reshaping gums or closing gaps between teeth are relatively easy corrections to undertake.  Let us know what changes would make you smile!  Call us today: 905.697.9799 or email us.
Our team at Bowmanville Dental is getting in to the holiday spirit!  We're hanging decorations and humming carols while we work.  How about you?  Do you feel the spirit of the season yet?  Here are some tidbits to inspire you!
FREE SPF 8 lip balm at your next dental visit.  Available in cherry, pomegranate, tangerine, vanilla or spearmint flavour.  Email us now to book your appointment.
Cool Online Holiday Games For Kids on the Canada Post website: http://www.canadapost.ca/cpo/mc/personal/santa/games.jsf
Santa Calls!  We used this last year on grandkids in the family, and on grandma too!  Everyone was delighted to receive a call from Santa!  Try it out!  Santa calls are free and fun. http://www.sendasantacall.com/santa/
Top 10 Dental Stocking Stuffers by Skinny Mom Blog.  Holiday cocoa, cookies and treats gives us good reason to bone up on our flossing and brushing habits!  Keep cavities at bay by stuffing stockings with these oral health aids!  Here's the link: http://bit.ly/YPxLVK
Peppermint Hot Cocoa Recipe:  This minty hot chocolate is perfect on a cold day.  The girls at the office are sipping peppermint hot cocoas regularly these days!
INGREDIENTS
| | |
| --- | --- |
| 1 1/4 c | Warm milk |
| 1 1/4 c | water |
| 2 tbsp | unsweetened cocoa |
| 3 tbsp | brown sugar |
| 1/2 | candy cane |
| 1/8 tsp | kosher or sea salt |
| 1/8 tsp | ground cinnamon |
INSTRUCTIONS:  Add ingredients to blender jar in order listed and secure lid. Blend serve. (Heat further in saucepan or microwave if so desired).  Recipe credit goes to Blendtec: http://bit.ly/11yfbRS
From our team at Bowmanville Dental to you, we're wishing you all a Happy Holiday season!
Brushing your teeth; it certainly sounds simple! But the fact is, a lot of people are doing it wrong!
Since proper tooth brushing helps to prevent decay and costly tooth problems, and we're focused on saving teeth, we're reviewing the right way to brush your teeth.  If you are in orthodontic treatment, the advice below is even more important, as orthodontic wires increase chances of food traps, bacteria traps and decay.
So, what is the right way to brush your teeth? 
1.  Floss first!  Flossing is the only way to bring bacteria up from below the gum line and get it brushed away!  Your toothbrush can't get under your gums.  Your dentist or dental hygienist can, using their professional tools, but you only see them every 3-6 months depending on your gum condition.  In between visits, keep the bacteria out!  Floss to bring it up, and then brush to get it out!
We know flossing can be boring, but even if you only floss once per day, you will be doing yourself a big favour!  If you don't floss at all right now, try building up to the habit.  Start small with a once per week routine, and slowly building to  twice per week, and so on.  Hey, even if you can only get to flossing every other day, it will be a huge improvement on bacteria levels in your mouth, and in turn, the health of your beautiful smile.  So start today and build a new habit!
 2. Brush twice a day, minimum; once upon waking and once before bed.  Brushing teeth within an hour of finishing meals is ideal, however if not possible, at least rinse well with water.
3.  Brush long enough, but not too long!  30 seconds per "quadrant" is best.
Believe it or not, you can brush your teeth for too long! More commonly, people don't brush for long enough.  Aim for the dentist recommended time of 2 minutes, with an equal 30 seconds in each "quadrant" of your mouth.  The visual below helps you see the quadrants in your mouth.  You have an upper right and upper left, and a lower right and lower left quadrant.  Spend 30 seconds in each one.

Now you may be surprised by how long two minutes can actually feel.  The best way to make sure your teeth get their full two-minute brushing to prevent unnecessary cavities and tooth problems, is to use an electric toothbrush with a built-in timer or to count in your head.  Remember to give all teeth equal attention and cleaning, so count out 30 second intervals for each quadrant.
 4.  While you are in each quadrant, remember to brush the "lingual"!  Many people brush only the outside or the "buccal" surfaces of their teeth, or the front part of their teeth which are generally in contact with their inner cheeks. Many people don't realize that the back side of their teeth need just as much cleaning.
Close your mouth for a moment and bite down to close your teeth together.  Now run your tongue along the back of your teeth.  All those tooth surfaces are known as "lingual" surfaces, or the back side of your teeth, and many people have plaque & bacteria build up or tender gums and bad breath, because they don't brush equally along these lingual surfaces.  Be sure to do front or "buccal" and the back or "lingual" of teeth in every quadrant!
 5. Be gentle.  To brush your teeth the right way, you want to be thorough, but gentle.  If you are brushing for 30 seconds in each quadrant, and a total of 2 minutes, you are thorough, and there is no need to be harsh on your teeth.
Using too much pressure when you brush, can actually damage the enamel which surrounds and protects your teeth from bacteria. Also, the enamel is actually the whitest part of your tooth and damaging it can make your teeth appear more yellow or grey.
Brush in small concentric circles, gently. That is all that is required to remove plaque bacteria and stains. Electric toothbrushes can help, as many are equipped with a pressure sensor, which triggers a warning light when you press too hard on your teeth.  If you are using a manual toothbrush, try the two-finger method to brushing gently.  Instead of holding your toothbrush with your entire hand, or a clenched fist, try holding your toothbrush with your thumb and two fingers only.  You will naturally use less pressure on your teeth when holding your toothbrush this way.
6. Rinse your mouth and rinse your brush!  Rinsing is a really important step, and a lot of people don't do it.
The reason rinsing is so important, is that it gets rid of particles of food that have become dislodged as you brush and floss. Plaque bacteria thrive on these food particles. If you leave them in your mouth, or on your brush, you're exposing your teeth to more plaque bacteria than necessary.  After brushing, give your mouth a good rinse with clean, cold water.  Rinse your toothbrush after use as well.
 7.  Let your toothbrush dry.  A moist toothbrush that isn't allowed to air dry can breed bacteria.  Store toothbrushes in a way that allows them to air dry naturally and not stay moist until the next use.
So now we've reviewed the right way to brush your teeth.  Some of these steps may be new to you, so give yourself time to develop new, positive habits.  Remember, correct tooth brushing helps reduce costly and invasive dental treatment.
If you have any questions about your dental routine or dental care, please call us at 905.697.9799 or send us an email today.
As ghosts and ghouls are set to hit the streets for Halloween fun tonight, our team here at Bowmanville Dental wishes to take a moment to wish you a safe and happy Halloween!
As a dental office, we avoid handing out candy, but we got in to the Halloween spirit and had fun with patients today! Check us out!
Enjoy your trick or treat goodies and remember to brush and floss afterward!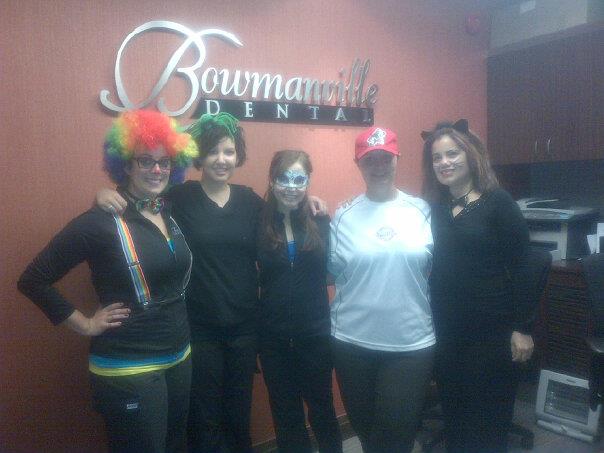 Dear wonderful patients of Bowmanville Dental,
We always love taking care of you, your family and friends.
Bowmanville Dental is all about helping our patients on their road to better dental health and beautiful smiles for life.
We want to take more responsibility for the dental health of people in our community and the best way to do that is to get the word out about our services.  You have already told us, via over 150 feedback surveys, that you think we are a 5 star office who takes good care of you each visit.  Read the reviews here:  http://www.smilereminder.com/vs/bowmanville_dental#193635
Today, we are asking that you help us get the word out by taking a few minutes to post a positive online review about Bowmanville Dental.
It can be a testimonial or just a few words of how we've helped you achieve a better smile or dental health, made treatment easier, or made you feel comfortable.  Help us get the word out by letting others know that our friendly, knowledgeable team is ready to serve them!
If you have a minute, click on the link below to leave a Google review for us.  You do need a Gmail or Google Plus account to sign in with.  If you don't already have one, signing up is free on only takes a moment.
If you are so inclined, when you are ready:
Sign in to your Google or Gmail account
Click on the link below and then

click the big blue  

"Write A Review"

button, sign up and leave a review!
https://plus.google.com/114051071515454212284/about?gl=CA&hl=en-CA
We are eager to see what you have to say!
We truly appreciate you taking the time to leave us a positive review, or contact us directly with any concerns you may have.
Our sincere thanks,
The team at Bowmanville Dental!
In the spirit of the season, we checked out the web and found a few free, family friendly pumpkin carving stencils and templates to share with our wonderful patients in our October newsletter.  We posted them here to share with you!
Pumpkin carving stencil template-scary eyes.
Pumpkin carving stencil-Happy Halloween.
Enjoy the season, it's beautiful colours, it's crisp, cool air and it's many holidays!
On July 29, 2012, we at Bowmanville Dental celebrated our five year anniversary.  Over 300 of our wonderful patients joined us for the celebrations at our BBQ and Family Day at the Bowmanville Zoo.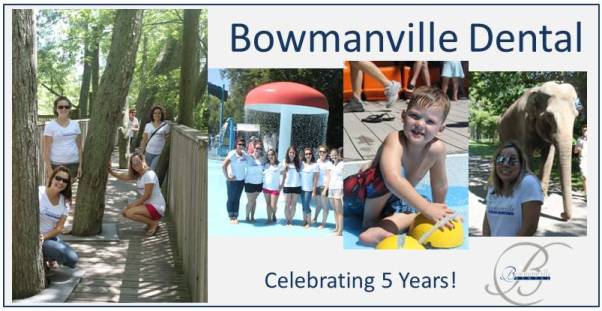 Over 50 of our guests walked away with prizes, including restaurant gift cards, massage and manicure gift cards, movie passes and more, all from our local restaurant and store owners.
Thank you to our wonderful local sponsors for their generous prize donations.   
Mucho Burrito, Boston Pizza & Kelsey's
Jess Nails, Salon Amana & Hair Fitness
East Side Mario's, Captain Georges & Wild Wing
TSC, The Country Store, Square Boys & Cineplex Odeon
We thank all the staff at the Bowmanville Zoo who went the extra mile to make sure our guests were well fed, well taken care of, and enjoying their day!
We would also like to thank our wonderful patients, for joining us for our special day, and for supporting us over the last five years that we have been in business.  At Bowmanville Dental, we focus on providing our patients with outstanding, personalized, comfortable dental care, and creating positive dental experiences.  Your continued support tells us that we're on the right path.  Your repeated referrals of friends and family and your return visits speak volumes about your trust in us.  We cherish that trust, and we look forward to serving you for many years to come.  Thank you to each and every one of you.   We appreciate you all so much.
SPECIAL INVISALIGN OFFER!
FREE INVISALIGN CONSULTATION ($125 Value)
PLUS INVISALIGN TREATMENT from as little as $1800 (conditions apply).
PLUS FREE take home professional grade tooth whitening after treatment.
Bowmanville Dental offers a preferred Invisalign Provider, Dr. Shai Levy.  Several of our team members have undergone Invisalign themselves, and are ready to answer all your questions!  Many of our patients have already made over their smiles with Invisalign Invisible Braces.
View some before and after pictures here.
Read some of our patient testimonials here. 
Call today to begin with your free consultation.  905.697.9799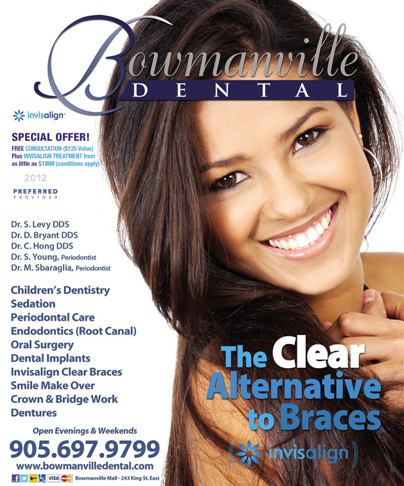 Congratulations Samantha! You're Bowmanville Dental's Kid Corner Winner!
You're the winner this August 2012.
You were picked as the winner because…
you have a healthy smile and a great attitude!
We hope you have lots of fun with your prize of a Cineplex Odeon Movie Pass and enjoy your Shoppers Drug Mart gift certificate!
Check out other Kids Corner Winners!
Book your kids in for a visit! Just call 905-697-9799 or send us an email.
Yes! We are open evenings & weekends.
Yes! We offer orthodontic care as well as Invisalign.