Send Some Love To Your Dental Hygienist!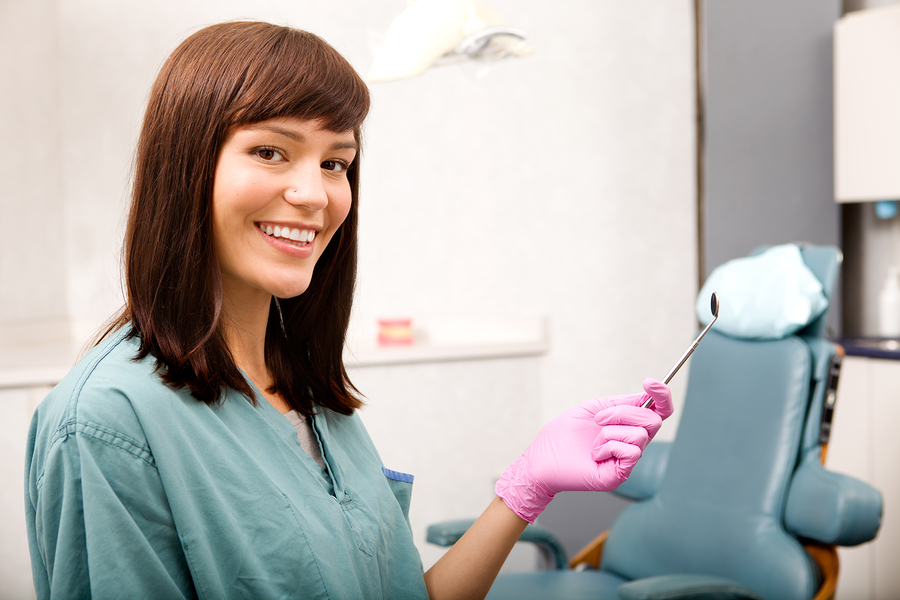 Love Your Hygienist!
If you visit the dentist regularly, that's every six months or more often, then you probably know that a dental hygienist cleans teeth. But they do so much more! Dental hygiene refers to the health and maintenance of the oral cavity, including teeth and gums.
This week, October 19-25, we are happy to join with the Ontario Dental Hygienist's Association to offer our appreciation and support of dental hygienists during Ontario Dental Hygiene Week.
History of Hygienists
In 1906, a dentist by the name of Dr. Fones trained Irene Newman to be the first dental hygienist by having her clean teeth and provide prophylaxes to his patients. Dr. Fones went on to develop a school for hygienists in 1913, in Bridgeport, CT. Both Dr. Fones and Ms. Newman taught that dental hygiene was important for those who could afford to see a dentist, and for the greater good of public health. Hygienists were encouraged to reach out into communities and provide cleanings and prophylaxes to the underprivileged and underserved population.
Today, your dental hygienist is well trained in all aspects of dental care, gum health, and dental technology. Hygienists are still taught the importance of public health. A dental hygienist in Ontario must be registered with the College of Dental Hygienists Ontario and have completed an accredited dental hygiene program. A written exam, clinical competency evaluation, and jurisprudence module are required, as well. Hygienists must hold insurance and keep up with continuing education standards to retain their professional standing.
What Hygienists Do
Dental hygienists clean teeth, which is more complex than you may think. A regular dental cleaning involves removing soft, sticky, naturally occurring plaque, as well as the calcified form of plaque, called tartar or calculus, from teeth. Six-month cleanings, or more frequent cleanings for some patients, helps keep gums strong and healthy. When plaque and tartar build up on teeth, gums become irritated and infected. Gum disease afflicts about half of the population, and it has been linked to many systemic health conditions, including heart disease, respiratory problems, low-weight birth, diabetes complications, stroke, dementia, and Alzheimer's disease. Hygienists help fight gum disease.
Before a cleaning, a hygienist measures the pocket depth of the space between gums and teeth. If the depth indicates that gum disease is eating away the connective tissues, you will need more than a regular cleaning – you'll need a deep cleaning. Also called scaling and root planing, a deep cleaning involves removing plaque and tartar from teeth, all the way to below the gum line. In addition, the root scaling part of treatment involves smoothing rough areas on teeth roots so that plaque and tartar cannot accumulate there. Deep cleaning eradicates bacteria and promotes healthy reattachment of gums to teeth. Gum disease, however, is a chronic condition that can flare up at any time. Good home hygiene and professional dental hygiene by your dental hygienist will help deter recurrence.
Hygienists can also place sealants on teeth, as a barrier against bacteria and tooth decay.
They may provide some restorative dental treatments and advanced orthodontics, if properly trained.
Perhaps one of the most important roles of the dental hygienist is in teaching patients how to properly care for their teeth and gums at a home. A hygienist can recommend products, demonstrate brushing and flossing techniques, and help patients understand their unique dental health condition.
The A-Team
The best team for professional dental care includes a trained dental hygienist and an accomplished doctor of dental medicine (dentist). Together, this A-team will keep all facets of your oral health in check, from healthy teeth and good occlusion to strong gums and properly functioning jaw joints. Using their knowledge of oral health, combined with diagnostic technology like x-rays and photography, a hygienist and dentist make an excellent resource for patients of all ages.
Thank You, Hygienists!
We want to thank all of the hygienists in Ontario and across the globe for their dedication to public health. Hygienists make the world a better place by giving us bigger, healthier smiles!
Are you looking for a dental hygienist in Bowmanville? Schedule an appointment with us today.