Types Of Dental Braces We Offer
Orthodontists and dentists have many options for correcting bite problems. Traditional orthodontics include the metal braces we all think of when we think dental braces. New technologies include Invisalign clear braces which are suitable for teenagers and adults.
Traditional braces are often required to treat children or advanced orthodontic problems. They have come a long way as well, offering ceramic tooth coloured braces, and fun coloured braces.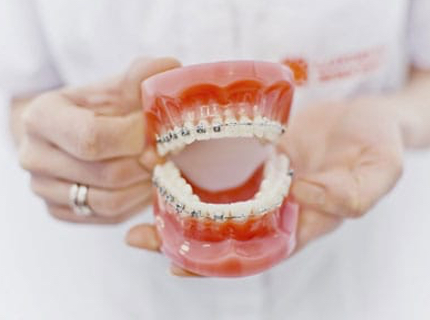 Updated and improved, todays metal braces are smaller, more comfortable and less intrusive looking than ever before. They are made of stainless steel or titanium. These are strong, and the best treatment option for some cases.
Similar in structure to traditional braces, these are popular with adults as the bracket portion of the brace is made of clear materials. They are slightly more fragile than traditional braces and your dentist can tell you if they are suitable for your treatment.
These are very similar to traditional braces, but they don't require elastics to aid tooth movement. These means less visits are needed during treatment, which is great for busy families. There are both metal and clear options for the bracket portion of these braces.
Invisalign corrects orthodontic conditions using a series of clear aligners.
Every 2 weeks you switch to the next aligner in your series. This keeps your teeth moving into their correct positions. You can briefly remove them to eat and drink anything you want. Then, simply brush and floss your teeth as you would normally, and put the braces back on.
Invisalign clear braces are suitable for teenagers and adults.
A Temporary Anchorage Device (TAD), is a small implant used by orthodontists to help achieve faster and more comfortable tooth movement in some cases. These are not braces, but an aid in treatment.
The temporary implant is placed into the jawbone, using anesthetic. It serves as an anchor for orthodontic appliances.
Once the tooth or teeth have been moved to the desired position, the TAD is removed.
Palatal Expanders & Specialty Orthodontics
Some orthodontic conditions require special dental appliances.
For example, when the upper jaw or palette requires widening so that teeth can come in properly, a palatal expander would be used.
At Bowmanville Dental, our orthodontics team is here to provide you with a personal diagnosis and treatment plan for your needs. Schedule your exam and learn which treatment is right for you.
Schedule Your Complimentary Orthodontic Consultation Today
And create a healthy smile for life.
Visit Bowmanville Dental
Call (905) 697-9799 or email us now.