Voted Best Dental Office In Bowmanville, 2014
You voted us the Best Dental Office in Bowmanville, ON again! Thank you!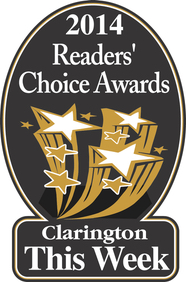 We recently learned that we have again been voted the best dental office in Clarington by the Clarington Reader's Choice Awards for 2014!
You voted to make us Reader's Choice Award Winners for 2013, and now again, for 2014. And we just feel very honoured and humbled by your votes and your support for our office. Thank you so much for putting your trust in us and letting us be a part of your overall health and well being. We love seeing your smiling faces, getting to know your families, hearing your stories and helping you look and feel your best by keeping your gums, teeth and mouth healthy.
Thank you again for voting for us, for your referrals to us, and for choosing to be our patient. If we win again next year, we're thinking we should throw a little party! What do you think?
Sincerely,
The Best Dental Team in Bowmanville, the Bowmanville Dental team!